[Workshop]Find Theses & Dissertations from NTU Library and Worldwide
Please register the session online
https://docs.google.com/forms/d/e/1FAIpQLSdviqGzf5QmoFlhO2m8RhtOEjuz6LAYxIWpz4c1YEjQcrfjUA/viewform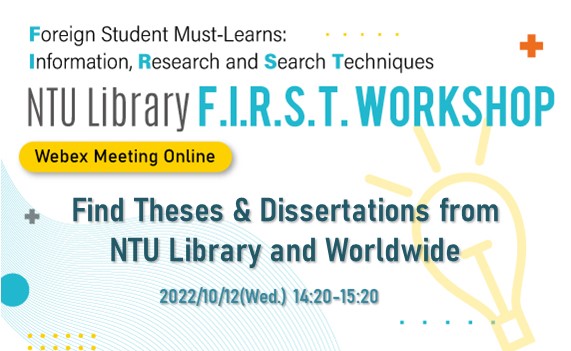 The doctoral dissertations and the master's theses are full of rich academic information. They provide a comprehensive literature review on the topic and extensive references. They will also help you grasp the critical resources. The session will introduce how to find the theses and dissertations in Taiwan. In addition, the session will discover the various databases of theses and dissertations from the USA, Canada, Europe, Australia, Japan, etc.

After registration, you will be notified of the live stream URL (through Cisco Webex) before the date of the session.
NTU Library F.I.R.S.T. Workshop
F
oreign Student Must-Learns:

I

nformation,

R

esearch and

S

earch

T

echniques
If you have any questions or suggestions, please contact us.
☎ (02) 3366-2326 ✉ tul@ntu.edu.tw