This orientation is conducted by librarians to introduce students the library's resources and to strengthen their research skills.
Librarians will give you a brief overview of the library services and facilities,
and let you know how to make a better use of NTU library resources for your study and research.
Notes
.The online session will be performed on Cisco Webex. All attendees will receive an URL via Email on the day before the session.
.The in-person session attendees should come to the entrance of NTU main library on time.
.This event is only for NTU international students.

歡迎國際生參加圖書館之旅,藉由導覽與講習快速瞭解臺大圖書館的多元服務與豐富資源,提升學習力!
.線上場次使用Cisco Webex,會議室連結將於該場次前一天以Email提供報名者.
.實體場次集合地點為總圖書館1樓前廳,講習地點為總圖書館4樓多媒體服務中心418大團體室.
.限本校國際生參加.

[ Click the picture below to complete the online registration ]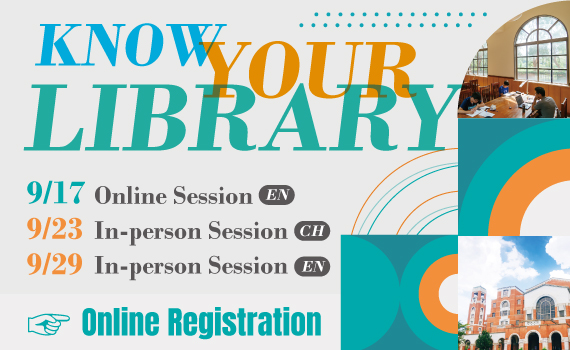 *COVID-19 Prevention*
Remember to bring your NTU card and wear a mask during the event.
*溫馨提醒*
因應新冠肺炎疫情發展,請攜帶學生證以入館;活動全程請配戴口罩,感謝您的體諒與配合。
This event is organized by Library Extension Services Division and Subject Services Division.
若有相關問題,歡迎來信或致電 (02) 3366-4551,推廣服務組