NTU Library F.I.R.S.T. Workshop for International Students
https://www.lib.ntu.edu.tw/node/3953
NTU library presents the F.I.R.S.T. Workshop: a multi-session workshop designed to help foreign and international students learn how to discover and search for useful research resources in library collections and e-resources. All sessions are conducted in English. Welcome to attend the workshop.
Please register the session online:
https://my.ntu.edu.tw/actregister/sessionList.aspx?actID=20211923_04
Location: Room 418, Multimedia Services Center, 4F, Main Library.
If you have any questions or suggestions, please contact us.
☎ (02) 3366-2326 ✉ tul@ntu.edu.tw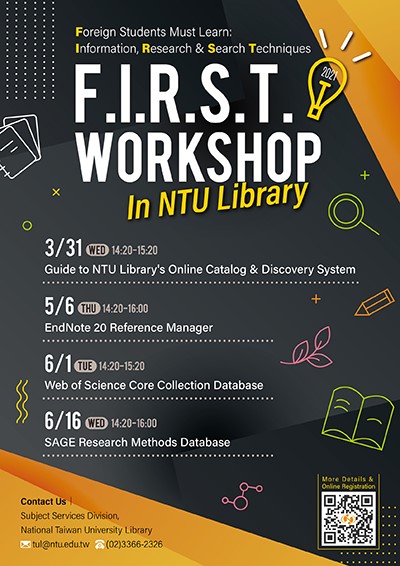 為協助國際學生善用圖書館資源以增強研究能力,本館特別規劃四場英語解說課程,內容包含圖書館館藏目錄、EndNote書目管理軟體、Web of Science Core Collection資料庫、SAGE Research Methods研究方法資料庫,歡迎國際學生踴躍參加。
注意事項

1. 請先上網報名。

2. 課程地點:總圖

418

大團體室。

3. 如有任何問題與建議,請洽詢圖書館學科服務組。☎

(02) 3366-2326

✉
tul@ntu.edu.tw